The ability to communicate effectively, convey a topic, and persuade an audience is priceless, regardless of whether you are a student or a C-level CEO.
Nowadays, the presentation software you utilize is just as critical as your public speaking abilities. Additionally, due to the present coronavirus scenario, the majority of businesses have just switched to remote work and will now need to share their experiences online with their scattered workers. That is why we have compiled a list of some of the top presentation software currently available.
You can also find solutions to create such software for your company with the help of the best software development company. The team of experts make it feasible and reliable to make the presentations and job easy.
Also Read: Top 5 Technology and Business Trends of 2022
1۔ Piktochart
Piktochart is a web-based design tool for creating a variety of visualizations ranging from infographics to social media tales.
Piktochart excels in creating presentations. Users can choose from a variety of professionally created slide templates on Piktochart. These range from monthly marketing reports to onboarding templates for new employees.
This expansive collection is especially beneficial for folks who lack design experience or expertise yet require a visually attractive presentation in a pinch.
Additionally, Piktochart's drag-and-drop capabilities make it simple to incorporate design elements such as lists, timelines, comparisons, graphs, and various sorts of charts.
You can even use it to create visual maps. Additionally, if your organisation subscribes to the Piktochart TEAM plan, you can take advantage of the platform's capacity to save brand assets, colour schemes, and custom templates.
It's simple to replicate company-branded images here. Piktochart offers a free version with some limitations. There are a maximum of five active visuals each month, and all published visuals include a Piktochart watermark.
If you want to use features like collaborative team templates, project sharing, and annotated commenting, you'll need to create a Team account. To summarise:
Pros:
Lots of professionally-designed templates
Appropriate for both professionals and non-professionals in design
It's simple to save brand assets and create custom templates.
Access with a web browser from any location
There is a free version available.
Cons:
If you're accustomed to PowerPoint, this may require some adjustment.
2. PowerPoint by Microsoft
Oftentimes, the first presenting programme that comes to mind is Microsoft PowerPoint. Considered the "Original" of presentations, it is frequently used and has a rather familiar interface, which implies that the majority of users are familiar with it. It includes all of the components necessary to construct a presentation, from animated transitions to pre-installed fonts and graphic elements.
Additionally, users can incorporate custom fonts, pictures, and photographs into their presentations. Finally, it is included as part of the Microsoft Office software suite, and you can work on your presentations both online and on the go.
However, PowerPoint offers a limited number of templates, and they frequently fall flat. If you're not careful, it's easy to fall back into a boring slideshow.
And, because the majority of people use PowerPoint, you're very certainly using the same template as everyone else. PowerPoint is expensive as standalone software at US$139.99—and is limited to a single device unless you upgrade your bundle.
Furthermore, while PowerPoint is primarily a presentation application, its capabilities are confined to this area. Therefore, if you're seeking for the best value, you may want to explore elsewhere.
Pros:
Market leader in slideshow applications
A widely used and well-known interface
Reliable and compatible with the majority of devices
Cons:
Expensive
Templates that are flat
Constraints associated with the price of its standalone software
3. Google Presentations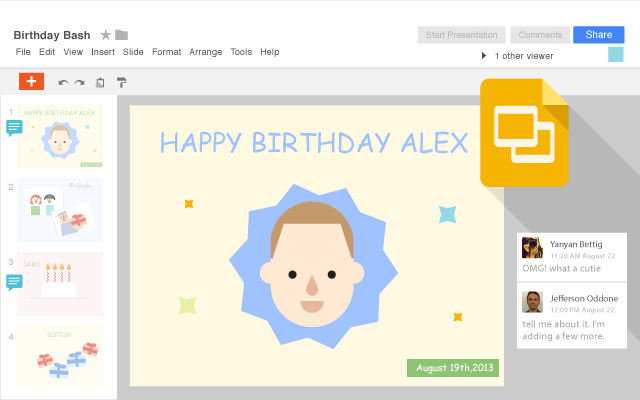 Google Slides is a comparable slideshow programme to PowerPoint. However, there are three significant distinctions: it is entirely online, collaborative, and free.
Apart from being absolutely free for everyone with a Google account, the amazing thing about Google Slides is that you can access it via browser or official app. You can access and share all of your presentations from any device, allowing for real-time collaboration.
Additionally, there is no need to be concerned about disruptions because all changes are saved in real time as long as you maintain an active internet connection. Additionally, anyone who is familiar with PowerPoint will find Google's iteration intuitive.
Additionally, it is much simpler to navigate, making it ideal for individuals new to presentation creation. However, some may find Google Slides to be excessively simplistic in comparison to PowerPoint's abundance of functionality.
These features include the ability to embed videos from sources other than YouTube, as well as the addition of audio tracks and sound effects.
Additionally, some users experience difficulties downloading and exporting to various formats, including PowerPoint. Certain slides may even appear to be completely different from the original.
In conclusion, Google Slides is an excellent choice for individuals seeking for a free programme for creating simple presentations.
Pros:
It's completely free and collaborative.
Simple and recognisable interface
Cons:
Excessively simplistic for advanced presentation techniques
Exporting to other formats is difficult.
4. Keynote
One may argue that Keynote is Apple's answer to PowerPoint. Additionally, it is a slideshow application—but, in true Apple fashion, it features a slick, simple interface.
There are thirty distinct themes available, each of which serves as a template for individuals in need of a quick repair.
Additionally, it can perform the majority of the functions that PowerPoint can. The primary advantage of Keynote is that it is integrated with the Apple ecosystem.
This means it comes pre-configured with iCloud and Apple Watch functionality, allowing users to control their presentation directly from their wrists.
Additionally, it comes pre-installed on the majority of Mac devices. Otherwise, you can purchase it for for US$9.99 for mobile and US$19.99 for OS X from the Apple store. The significant disadvantage is that Keynote is Mac OS-exclusive.
Non-Apple users can create, upload, and sync their own Keynote presentations via iCloud Drive, but this capability is mainly useful for individuals who possess several Apple devices.
Additionally, if you're accustomed to working with PowerPoint, you may find Keynote initially challenging.
Pros:
Sleek, minimalist interface
Complimentary with the majority of Apple devices
Cons:
Access to PCs and Android devices is limited to iCloud.